Long Island Network Cabling Cat5e / 6
Our Telecom division specializes in the installation, testing, and finding wires that are considered as low voltage cabling.  Low voltage wiring has been adapted as a critical requirement for businesses to run efficiently. We are the Long Island network cabling specialists. 
Cat 5e Cabling
Networks, recommends at least 1 Computer Data/Internet Port and 1 Telephone port next to every outlet.   We see this problem all the time, below is an example.  Let say Dave opens an office and only puts 1 Data/Computer Port and 1 Telephone port where every will be computer is going to, when he moves in.  Let say down the road he decides to move the location of a floor standing copier and/or computer to a wall where there is no Computer data port and/or telephone ports.  Now he has to either run a cable or two around the room, or call a telecom wire installer for additional money to install a Computer data port / telephone port on that wall.
Cat 6 Cabling
Category 6 cable, often referred to as CAT 6, is a standardized cable for Ethernet and other super fast networks.
At Networks , we offer connectivity options including Cat5e, Cat6, and Cat6a for business and residential customers in and around Long Island and the 5 boroughs of New York.
Patch Panel
Networks, recommends a patch panel to help organize those wires for you, plus the labor is about the same time either way.  
Terminating Your Wiring or Existing Cabling
We will only terminate wires to either: Female Jack, Male Crimp Plug, Patch Panel, coupler, and punch down splicing box.  We try to avoid using electrical tape to terminate our wiring, because it is very sloppy work that anyone can do, plus it is not for a permanent fix.  If and when we have to terminate wires using electrical tape, will only be used to as a temporary solution until a permanent solution is resolved or if someone's life is at stake, otherwise a technician will take their time to terminate the wire correctly.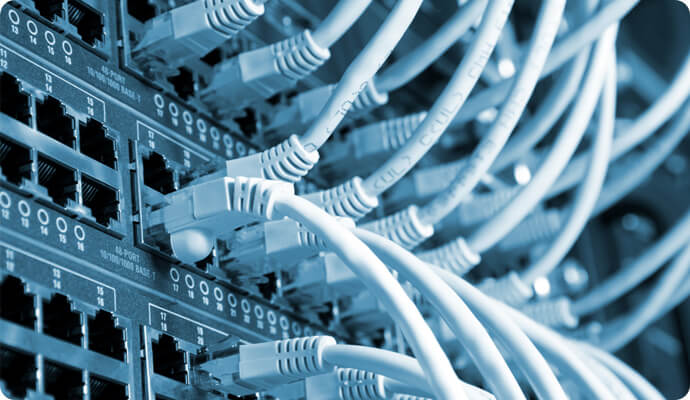 PROFESSIONAL LONG ISLAND NETWORK CABLING, TROUBLESHOOTING & CONSULTING
Specializing in Long Island Network Cabling
Long Island's Cat5e Cat6 Cat6a Network Cabling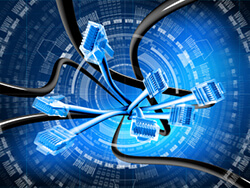 How does my VOIP Phone system effect my computer network? –If you have 1 or two phones tops then you will not have too much problems, if is when you have two or more phones that is when problems arise.  VOIP phone system is a LAN Line phone that requires an active Internet Connection from your Internet Service Provider like: Verizon, Time Warner, Cablevision, At&t, etc.  These VOIP Phones usually gets connected in-between your computer/device and router/networking switch.  Since these VOIP phones are connected this way, they will slow down your internet speed going to the computer/device and can cause corruption to data files over your computer network.  The more phones and/or activity with these phones, the more damage can occur.  If you still want to continue using the VOIP Phone System, then Networks,  will recommend a proposal to split your VOIP phone system from your computer network, by preventing corruption that may occur, to slowness in transferring files over the network.  By splitting your VOIP phone system from your computers is not hard at all, it will require additional wiring only for the phones and additional routers to break up the VOIP Phone System Network from the computer network.  If your VOIP phone system is slowing down your internet speed even after the splitting of the devices, then you might have to upgrade your Internet Server Provider bandwidth speed to be able to handle a better connection.
List of types of Low Voltage wiring but not limited to:
Cat 3/5/5e/6/7 – Telephone / Computer Data Wire
PE89 – 12 Pair Telephone Wire
HDMI Wire
RCA wire
Video Component Wire
RG-59/RG-6 – Coax (TV) Wire and DVR Surveillance
Speaker Wire
S-video Wire
DVI computer Wire
D-sub – standard Monitor Wire
RS-232 Serial / USB Wire
Fibre Optic Wire