Long Island Office Relocations: Moving IT Equipment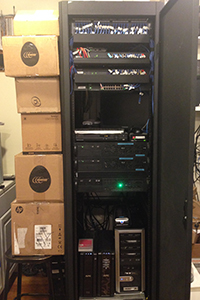 In addition to arranging the removal and transportation of the furniture in your office as well as your belongings, you will need to arrange the safe and secure relocation of your IT equipment/computer terminals and business phone systems. (The Physical Move of all IT Equipment) Transferring/transporting office and moving IT equipment is not as easy as disconnecting and reconnecting your computers, so this side/part of your Long Island office relocation should be operated by an IT specialist who will understand the technical and logistical aspects of operating/managing IT relocations. Networks have the expertise to disassemble your IT network and reassemble it safely and securely in the new location.
We institute a Company Point of Contact (POC) who we update continuously throughout the entire Relocation Project, so you will be able to ensure that the move is going well.
What IT Equipment do we touch during your move?
Computers, peripherals, monitors, hard drives, cables
Phones and phone systems
Phone Company Equipment/Modems
Networking equipment, UPS devices (Battery Backup Devices)
What we do during a Long Island Office Relocation Project
If the phone system needs to be replaced; we go to the existing location and the new location to assess what needs to be done. If they need to move Networking equipment, then we're going to need to move the phone system, afterwards we most likely will need to run low voltage cable, because usually even when they have wires in locations, the companies put employees in spots where there are no wires. Even though people ignore upgrades, it's in our customers best interest to do some upgrades during their transition because for example if you want a TV installed or a Sonos home audio system installed it's best to do it while the walls are open. We can identify any problems you're having and we will fix everything for you without you having to move a muscle! We help you in moving your Phone Company Account (ISP) to the new location. At Networks, we think of every aspect of your technology needs.
Things one should know before relocating IT Equipment
Do you have a Static IP Address?
If you have a Static IP Address, Networking Equipment may have to be reconfigured.
Do you have a VPN?
If you have a VPN, it may have to be reconnected in the new location.
Do you want to keep your DVR System?
If the answer is yes, additional wiring may need to be installed.
Do you know all your passwords?
Knowing your passwords makes life much easier for you and it makes your Office Relocation run smoother.
Are you the administrator of your phone company account?
If you are already the administrator of your phone company account (ISP), then moving your phone account is very simple.
Do you have the floor plan of your new location?
Having a floor plan already in place, would give us a chance to see how to run cabling to the exact measurement.
Let Networks make your process of changing office locations as comfortable and as cost-effective as possible. Call us today at (516) 889-0777 today to get your office relocation project/IT equipment move started and receive a Free Onsite Walk – through.